Announcement:
Welcome to Dk8Win! Deposit with TnG eWallet, Boost and GrabPay now! Claim your 30% Welcome Bonus!
UNLIMITED 8% BONUS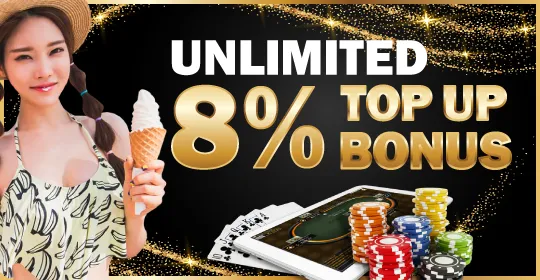 Players are allowed to claim this Bonus for all types of games i.e. Slot Machines, Live Games, SportsBook and Fishing Games.
Enjoy 8% Bonus up to RM688 as many times as you want!
There is no limit to how many times this bonus can be claimed.
Minimum deposit of RM30 is required to claim Bonus.
This bonus is subject to rollover requirement x5 (deposit+bonus amount) before withdrawal can be made.
Refer calculation example below for players who deposit RM100 to claim this Bonus.
Example:
Deposit RM100 + 8% Bonus = RM108
Rollover Calculation: RM108 x 5 Rollover = RM540
Minimum cashout is RM540
Which means players have to PLAY and WIN until their credit reaches RM540 then they are eligible for withdrawal/cashout. This is subject to all types of games e.g. Slot Machines, Live Games, SportsBook and Fishing Games.
All drawn or tie wages will not contribute to the turnover. Only wages that generate a win/lose result will contribute to the turnover.
At the same time Player bet on roulette more than 18 numbers or (Black Small / Red Big) will not be accounted for calculation towards any rollover.
Dk8Win.com reserves all rights to use players' names and images for marketing and promotional purposes.
Dk8Win.com reserves the right to change the terms and condition of this promotion at any time.
Abnormal Betting - Any bets placed on TWO OPPOSITE SIDES or DRAW will not be taken into the calculation or count towards any rollover requirement. The company reserves the right to suspend the player's account and also void player's deposit and winnings.